Distributors
Fremtidens Fundament ApS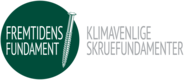 Address
Tibberup Allé 67
3500 Vaerlose
Denmark
Website
https://www.fremtidensfundament.dk/
Portfolio
Sales and rental of high quality KRINNER ground screws and machines in Denmark. Offers professional installation or training opportunities for customers.
Fremtiden's foundation ApS offers solutions for two customer segments: private and professional.
Private individuals are able to buy high-quality ground screws from Fremtiden's Foundation ApS, rent safety-tested tools for the installation of the foundations and receive qualified advice so that they can lay a stable foundation themselves.
Specialists, including contractors, consultants, engineers, architects and public builders, can use Fremtiden's foundation ApS either as an installation partner or as a supplier of ground screws with the knowledge of safe use.
Fremtiden's foundation ApS works continuously on the development and improvement of the ground screws technology through well-documented work for the benefit of more climate-friendly construction in the countries in which they operate. Fremtidens Foundation ApS is a professional sales and purchasing community in Northern Europe, too.
CEO
Rune Roepstorff Nissen
The cookies to display Google Map were rejected. Please accept the Google Map Cookies to show the map.