Sustainable, durable, revolutionary
Our company philosophy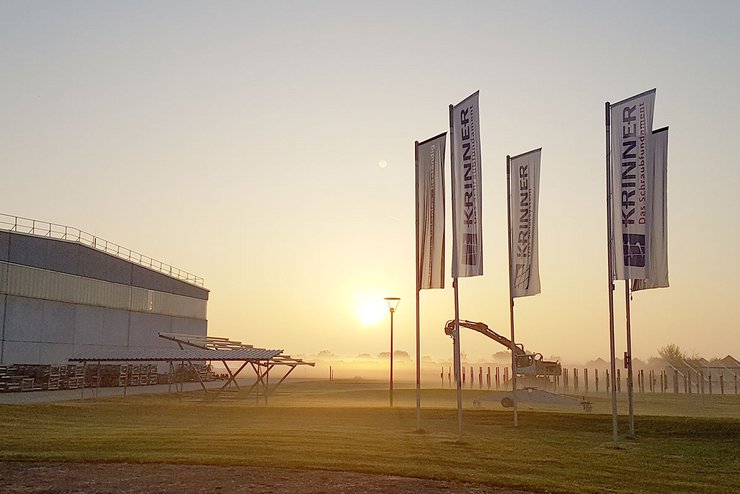 Sustainable, durable, revolutionary
Our company philosophy
As a pioneer of alternative foundation construction, our driving force has been to bring solutions and products onto the market that can really be used in practical solutions and that offer a sustainable and environmentally-friendly alternative to conventional and established solutions.
This requires a revolutionary way of thinking, which is also firmly anchored in our DNA, as is the approach of being a steady and reliable partner for our customers.

This triad of sustainability, durability and a revolutionary way of acting is at the core of our philosophy and forms the basis of our company's values.
At KRINNER, our aspiration is to always be one step ahead of the competition as there is pure pioneering spirit running through the veins of our company.

Christoph Krinner, CEO
Company value
Sustainability
Company value
Sustainability
While the issue of sustainability used to be far from a hot topic, here at KRINNER we have always made an effort to manufacture responsible and environmentally-friendly products. Making progress with the smallest possible ecological footprint is our company credo.
We began working on alternative solutions for the construction industry early on to help tackle soil sealing and crop damage. The result: a foundation that can be removed and that barely damages the landscape and soil structure.
The affordable foundation solution for challenging applications has not only had an ecological impact on the market but it has also changed it in the long-term as it offers an eco-friendly alternative to traditional concrete foundations in many areas of application.
KRINNER is a down-to-earth, healthy company that has worked hard to secure its place as a leading provider of ground screws. High quality standards, motivated employees and a large network of sales partners are the three solid pillars of our constant progress.
As a reliable and professional business partner, we continuously work on optimising our range of products, accessories and services and we guarantee a future-oriented portfolio with secure sales and marketing prospects.
KRINNER remains true to its vision of developing innovative foundation products and having a lasting impact on the market.
Company value
Revolutionary
Company value
Revolutionary
With our ground screws, we have revolutionised foundation construction in many areas of application and made it much more efficient. Each ground screw contains a bit of the KRINNER revolution.
This means that our customers and partners can be sure that they are getting the best product on the market and that they are kept up to date with all of our latest products.